Onboarding a Multi Generation Workforce
In this recruitment best practices webinar, you will learn the ways to attract and retain employees for their organization. It will cover best practices of developing an onboarding process for multi generations in the workplace.
Purchase option for this webinar is currently unavailable. Please contact our Customer Care for more info.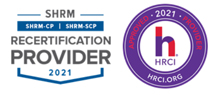 Course "Onboarding a Multi Generation Workforce" has been pre-approved by SHRM as eligible for 1-credit and HRCI as eligible for 1-credit towards a participant's recertification upon full completion.
The use of this seal is not an endorsement by the HR Certification Institute of the quality of the program.
Why Should You Attend:
If you are looking for ways to attract and retain employees for your organization, then this session is for you. Many organizations are challenged with attracting, retaining and engaging their work force. Many hiring managers say they lose their new employees within 6-12 months of employment.
So, if this is your organization- Do you know the difference between new hire orientation vs onboarding, what are you doing to acclimate your employees, do you have a robust onboarding process, and are you engaging employees sooner rather than later into the organization? If you answered no to any of these questions, this is a session you don't want to miss. This session will provide some best practices of developing an onboarding process for multi generations in the workplace.
Learning Objectives:
Onboarding is a topic often talked about but never done the right way. Many confuse Onboarding with New Hire Orientation. Although New Hire orientation is necessary, Onboarding is an important ingredient to retaining employees.
Many organization that utilize Onboarding still find it very difficult to retain employees. In this session participants will learn how important it is to engaged a multi-generations in the process. It is a fact, each generation have a different work expectations and different needs and desires. This process will cover what is important to each generations and how onboarding is the key to making sure needs and work expectations are met.
Areas Covered in the Webinar:
4 c's of Onboarding
Different Generation work expectation
Best practices
Multi Generation Model
Do's & Don't of Onboarding
Who Will Benefit:
Supervisors
Recruiters
Trainers
HR
Managers
Office Managers
Instructor Profile:

Tonia Morris
Founder, Simply HR LLC
Tonia Morris, Founder of Simply HR, LLC, a Consultant and Management firm that specializes in helping organizations attract, retain, and grow their employee through training. It is Tonia's belief that training is the secret sauce to attracting and retaining employees.
Tonia spent over 25+ years in the HR specializing in employee development. Tonia is a professional speaker with the National Speaker Association specializing in developing a Multi-Generation workforce, she is an active member of SHRM, and ATD to name a few. Tonia believe engagement is important when administering performance feedback. She is a certified coach with Registered Corporate Coach and Forbes Coaches Council.
Refund Policy
Registrants may cancel up to two working days prior to the course start date and will receive a letter of credit to be used towards a future course up to one year from date of issuance. ComplianceOnline would process/provide refund if the Live Webinar has been cancelled. The attendee could choose between the recorded version of the webinar or refund for any cancelled webinar. Refunds will not be given to participants who do not show up for the webinar. On-Demand Recordings can be requested in exchange.
Webinar may be cancelled due to lack of enrolment or unavoidable factors. Registrants will be notified 24hours in advance if a cancellation occurs. Substitutions can happen any time.
If you have any concern about the content of the webinar and not satisfied please contact us at below email or by call mentioning your feedback for resolution of the matter.
We respect feedback/opinions of our customers which enables us to improve our products and services. To contact us please email [email protected] call +1-888-717-2436 (Toll Free).
Product Reviews
This product hasn't received any reviews yet. Be the first to review this product! Write review