Unemployment Insurance (UI) in 2018
In this training program attendees will learn whether they are aware on what determines requirements, criteria and decisions in Unemployment Insurance Benefits. There are a couple of factors that dictate whether a former employee will receive unemployment compensation, which are, the circumstances of the employee's departure and whether the employer contests the employee's claim. If a former employee files a claim, you will need to decide whether or not to contest it.
Purchase option for this webinar is currently unavailable. Please contact our Customer Care for more info.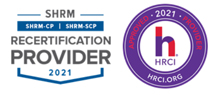 Course "Unemployment Insurance (UI) in 2018" has been pre-approved by SHRM as eligible for 1 credits and HRCI as eligible for 1 credits towards a participant's recertification upon full completion.
The use of this seal is not an endorsement by the HR Certification Institute of the quality of the program.
Why Should You Attend:
Not everyone who is out of work is entitled to unemployment benefits. Filing a claim does not cost workers anything; therefore most departing workers will automatically file for unemployment compensation. Once the claim is filed, it is up to the employer to timely contest the claim, or, if not, the former employee will likely be granted unemployment compensation.
Keep in mind, the higher the number of former employees who collect unemployment benefits, the higher your tax rate will be. Additionally, depending on the number of hours worked by the employee will determine which Employer pays the UI Benefits.
This webinar will explain the unemployment process and best practices for Employers to reduce their claims obstacles.
Learning Objectives:
Myths about the UI Process
What states are required to send UI Benefit information to all employees terminated as part of regulations
What Factors determine the eligibility for how Employers terminate employees
What Happens when an Employer contests a claim and looses?
Areas Covered in the Webinar:
Unemployment overview
Employee eligibility for unemployment and benefit periods
Strategies to fight unemployment claims
How to be proactive to avoid unemployment claims
What is the impact if an Employer terminates an employee for gross misconduct?
Are all states required to offer the same number of weeks in benefits?
How to respond to a Notice of Unemployment Claim Form
Preparing for a hearing or a trial
Establishing misconduct
Appealing a Notice of Determination
Who Will Benefit:
Business Owners
CEOs
Board of Directors
Vice-Presidents
Directors
Managers
Supervisors
Consultants
HR professionals
Office managers
Hiring managers
Benefit managers
Instructor Profile:

Margie Pacheco Faulk
Sr HR Consultant, HR Compliance Solutions
HR Compliance Solutions, LLC-Compliance Officer, Margie Faulk, PHR, SHRM-CP-is a senior level human resources professional with over 14 years of HR management and compliance experience. A current Compliance Officer for HR Compliance Solutions, Margie has worked as an HR and Compliance advisor for major corporations and small businesses in the small, large, private, public and Non-profit sectors. This includes Federal Contracting in the defense, military, anti-Terrorism and Apache Helicopter Training Simulations with Federal Acquisition Regulations (FAR), Federal Sentencing Guidelines (FSG) and Office of Federal Contract Compliance Program (OFCCP). Margie is bilingual (Spanish) fluent and Bi-cultural.
Margie's focus has expanded to Global Workplace Compliance in International, multi-state, multi-National, state and local workplace compliance which includes workplace compliance in other countries like the UK, Canada, France, Brazil, China, Africa, Mexico and India, just to name a few.
Margie has created and presented seminars/webinars for many compliance institutes. These national training providers, offer compliance training to HR professionals, business owners and companies interested in having their company compliant with workplace and industry regulations.
This year, Margie was selected by Alan Collins, former Vice President of Human Resources at PepsiCo, a renowned author of 8 books on HR Prosperity & Success, and founder of "Success in HR", to be part of his Mastermind Your Way to Success in HR, "Expert Interview Series based on her successful Webinars/Seminars on HR Compliance."
Margie holds professional human resources certification (PHR) from the HR Certification Institution (HRCI) and SHRM-CP certification from Society for Human Resources Management. Margie is a member of the Society of Corporate Compliance & Ethics (SCCE).
Refund Policy
Registrants may cancel up to two working days prior to the course start date and will receive a letter of credit to be used towards a future course up to one year from date of issuance. ComplianceOnline would process/provide refund if the Live Webinar has been cancelled. The attendee could choose between the recorded version of the webinar or refund for any cancelled webinar. Refunds will not be given to participants who do not show up for the webinar. On-Demand Recordings can be requested in exchange.
Webinar may be cancelled due to lack of enrolment or unavoidable factors. Registrants will be notified 24hours in advance if a cancellation occurs. Substitutions can happen any time.
If you have any concern about the content of the webinar and not satisfied please contact us at below email or by call mentioning your feedback for resolution of the matter.
We respect feedback/opinions of our customers which enables us to improve our products and services. To contact us please email [email protected] call +1-888-717-2436 (Toll Free).
Product Reviews
This product hasn't received any reviews yet. Be the first to review this product! Write review