3-hr Virtual Workplace Compliance Bootcamp: Compliance Training for Managers/Supervisors: Have Your Leaders Learn what other Managers do not Know!
In this 3-hrs HR compliance training attendees will learn mitigate all the compliance risks associated to workplace. It will cover documentation, 2019 regulations, Family Medical Leave Act (FMLA), Americans with Dis-abilities Act (ADA), Equal Employment Opportunity Commission (EEOC), employee handbook, onboarding process, and tools for performance review. This Compliance Training will save your company over $300,000 in potential fines, violation and court settlements.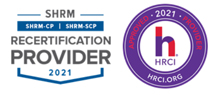 Course "3-hr Virtual Workplace Compliance Bootcamp: Compliance Training for Managers/Supervisors: Have Your Leaders Learn what other Managers do not Know!" has been pre-approved by SHRM as eligible for 3 credits and HRCI as eligible for 3 credits towards a participant's recertification upon full completion.
The use of this seal is not an endorsement by the HR Certification Institute of the quality of the program.
Why Should You Attend:
Arm your Manager with the compliance tools to ensure they understand the risk. Have All Your Managers be Aware of all the Compliance Risks and How to Mitigate them! This Compliance Training will save your company over $300,000 in potential fines, violation and court settlements. Can you see how you can mitigate risk when you train your Leaders/Managers? Can you afford to lose $300,000 plus?
Employers who train their Managers/Supervisors in compliance initiatives, have a "good faith Defense" if there are future workplace litigations;
Managers/Supervisors make decision that does not necessarily coincide with the Organization. This Compliance Training Series will mandate your Managers/Supervisors to follow your organization's policies, culture and practice;
Your Organization can demonstrate that they provide good judgement when litigation issues arise. That means if the Organization can demonstrate that they train Managers/Supervisors, they will prove that they train for success;
Teach Managers/Supervisors the most volatile issues that they will face as Managers and how to mitigate those issues;
Teach Managers/Supervisor how to handle performance issues consistently and according to your Organization's values and mission;
Documentation is key in performance issues. Have your Managers/Supervisors learn how to document performance consistently, strategically and fairly;
Have Managers/Supervisors identify those compliance regulations that can impact the Organization as well as their accountability;
Provide your Managers/Supervisors with the tools they need to reduce risk and connect with their direct reports.
Areas Covered in the Webinar:
How to document performance issues to withstand legal scrutiny?
Learn how to mitigate Federal, State and Local/Multistate 2019 regulations;
How to have Managers/Supervisors take the lead in managing their direct reports?
How an effective Employee Manager relationship can reduce your risk and improve productivity;
How will Family Medical Leave Act (FMLA) and Americans with Disabilities Act (ADA) impact your bottom line if there are performance issues;
What does the Equal Employment Opportunity Commission (EEOC) do when there is a claim of discrimination?
How can Managers assist their Direct reports as mentors and advisors?
How Managers/Supervisors avoid "Vicarious Liability" when they make decisions that will impact the Organization?
How can regular supervision limit the bad performance issues with direct reports?
How the employee Handbook is a critical part of this bootcamp?
How can a good onboarding process ease the issues of good acclimation to the Organization's culture?
What tools can Managers/Supervisors have to assist them in managing their teams?
What happens when an employee is terminated and they make claims of wrongful termination?
When Managers/Supervisors are not acting as managers but trying to be a friend to their direct reports?
See what tools will help your Managers/Supervisors during the performance review evaluation period;
Teach Managers/Supervisors how they can manage their employees and reduce violations.
Who Will Benefit:
Business Owners, Company Leadership and Board of Directors (CFO, COO, CEO)
Federal Contractors
Department Heads
Human resources professionals
Compliance professionals
Payroll professionals
Managers/Supervisors & new and potential Managers
Office Managers responsible for HR responsibilities
Person responsible for Affirmative Action Plan (AAP) and Equal Employment Opportunity Commission (EEOC)
Instructor Profile:

Margie Pacheco Faulk
Sr HR Consultant, HR Compliance Solutions
Margie Faulk, PHR, SHRM-CP HR Compliance Solutions, LLC-Compliance Advisor/Speaker/Trainer, is a senior level human resources professional with over 14 years of HR management and compliance experience. A current Compliance Officer for HR Compliance Solutions, Margie has worked as an HR and Compliance advisor for major corporations and small businesses in the small, large, private, public and Non-profit sectors. Margie is bilingual (Spanish) fluent and Bi-cultural.
Margie's focus has expanded to Global Workplace Compliance in International, multi-state, multi-National, state and local workplace compliance which includes workplace compliance in other countries like the UK, Canada, France, Brazil, China, Africa, Mexico and India, just to name a few.
Margie has created and presented seminars/webinars for many compliance institutes. These national training providers, offer compliance training to HR professionals, business owners and companies interested in having their company compliant with workplace and industry regulations. Margie holds professional human resources certification (PHR) from the HR Certification Institution (HRCI) and SHRM-CP certification from Society for Human Resources Management. Margie is a member of the Society of Corporate Compliance & Ethics (SCCE).
Refund Policy
Registrants may cancel up to two working days prior to the course start date and will receive a letter of credit to be used towards a future course up to one year from date of issuance. ComplianceOnline would process/provide refund if the Live Webinar has been cancelled. The attendee could choose between the recorded version of the webinar or refund for any cancelled webinar. Refunds will not be given to participants who do not show up for the webinar. On-Demand Recordings can be requested in exchange.
Webinar may be cancelled due to lack of enrolment or unavoidable factors. Registrants will be notified 24hours in advance if a cancellation occurs. Substitutions can happen any time.
If you have any concern about the content of the webinar and not satisfied please contact us at below email or by call mentioning your feedback for resolution of the matter.
We respect feedback/opinions of our customers which enables us to improve our products and services. To contact us please email [email protected] call +1-888-717-2436 (Toll Free).
Product Reviews
This product hasn't received any reviews yet. Be the first to review this product! Write review