Delegating Skills and Holding Employees Accountable
Whether you're a first-time manager or a seasoned manager, holding people accountable can be frustrating and bring out the worst of emotions and more so when employees are remotely working. Accountability, done effectively, is a skill you can develop just like any other skill, and while it is not a difficult skill to acquire and hone, it does require a high degree of conscious effort and even more challenging when working remotely. This webinar addresses best practices and tips for holding employees accountable from a distance.
Purchase option for this webinar is currently unavailable. Please contact our Customer Care for more info.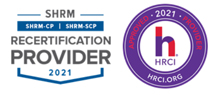 Course "Delegating Skills and Holding Employees Accountable" has been pre-approved by SHRM as eligible for 1 credits and HRCI as eligible for 1 credits towards a participant's recertification upon full completion.
The use of this seal is not an endorsement by the HR Certification Institute of the quality of the program.
Why Should You Attend:
Have you ever wondered how to make people accountable when they are out of sight? You might even think that being accountable means you're the one who gets blamed when things go wrong. In fact, accountability is about helping people to take responsibility for their obligations. It's up to you to make sure your team knows what they are supposed to do and that they have what they need to get the job done even when working remotely. There are some things you can do that will help foster accountability, and in the process make your project run smooth and profitably.
Areas Covered in the Webinar:
Definition of accountability
Challenges to Holding Employees Accountable
Your Role
Take Control of Your Own Work
Effective Delegation for positive results
Communication- Offering Feedback
Eliminate Excuses
Setting Benchmarks
Monitoring Progress
Who Will Benefit:
Human Resource Managers
Human Resource Executives
Human Resources Professionals and Consultants
Vice Presidents of Administration
CEOs
COOs
Chief People Officers
Organizational Development Managers
Senior Operations Managers
Directors of Learning and Development
Risk Management Specialists Attorneys and Legal Staff Supervisors responsible for corrective action
Instructor Profile:

Audrey Halpern
Soft Skills Trainer, Soft Skills
Audrey Halpern has had an exemplary 20+yr training facilitation/learning and development career, developing custom soft skills employee programs, on-boarding and Train the Trainer experiences. She is an experienced Facilitator, instructional designer, and learning and development/HR professional with a passion for making a difference.
Refund Policy
Registrants may cancel up to two working days prior to the course start date and will receive a letter of credit to be used towards a future course up to one year from date of issuance. ComplianceOnline would process/provide refund if the Live Webinar has been cancelled. The attendee could choose between the recorded version of the webinar or refund for any cancelled webinar. Refunds will not be given to participants who do not show up for the webinar. On-Demand Recordings can be requested in exchange.
Webinar may be cancelled due to lack of enrolment or unavoidable factors. Registrants will be notified 24hours in advance if a cancellation occurs. Substitutions can happen any time.
If you have any concern about the content of the webinar and not satisfied please contact us at below email or by call mentioning your feedback for resolution of the matter.
We respect feedback/opinions of our customers which enables us to improve our products and services. To contact us please email [email protected] call +1-888-717-2436 (Toll Free).
Product Reviews
This product hasn't received any reviews yet. Be the first to review this product! Write review