Ethical Issues for In-House Counsel: Don't Go Near the Board Room Without Them!
This webinar will help you manage the exclusivity of the attorney-client relationship, as well as handle the complex and difficult ethical challenges that unique intimacy and confidentiality the relationship fosters.
Purchase option for this webinar is currently unavailable. Please contact our Customer Care for more info.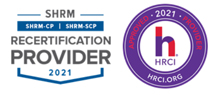 Course "Ethical Issues for In-House Counsel: Don't Go Near the Board Room Without Them!" has been pre-approved by SHRM as eligible for 1 credits and HRCI as eligible for 1 credits towards a participant's recertification upon full completion.
The use of this seal is not an endorsement by the HR Certification Institute of the quality of the program.
Why Should You Attend:
The roles of in-house counsels in the 21st century are as varied as the organizations they serve. One thing that all in-house counsels have in common is that they serve a single client… the organization, be it for-profit or non-profit, publicly traded or privately held, which employs them. The exclusivity of this attorney-client relationship, as well as the unique intimacy and confidentiality that it fosters, gives rise to complex and difficult ethical challenges.
In this webinar, you will learn:
The traditional roles of in-house counsel and how these are evolving in the new century
The Model Rules of Professional Conduct and the ABA Ethics Committee's Comments on them
The requirements and the limits of attorney-client privilege
How to recognize and handle conflicts of interest: between the organization and its employees; between the organization and a parent or subsidiary
How to balance in-house counsel's dual role as attorney and employee
Areas Covered in the Webinar:
Attorney-client privilege
Conflict of interest
Model rules of professional conduct
Dual role as counselor and manager
Conducting internal investigations
Latest trends in the in-house counsel role
Dealing with outside counsel
Serving as in-house counsel while maintaining a private practice
Who Will Benefit:
General Counsel
Associate and Assistant General Counsel
Other In-House legal staff
Instructor Profile:

Jim Castagnera
President, K&C Human Resource Enterprises
Dr. James Ottavio Castagnera, Esq. hold a JD and PHD from Case Western Reserve University. He spent 10 years as a labor, employment, and intellectual property lawyer with the major Philadelphia law firm of Saul, Ewing, Arnstein & Lehr, and 23 years as associate provost and legal counsel at New Jersey's Rider University. During his long career in law and education, he has published 20 books; participated as an equity player and general counsel in a leveraged buy-out; tried and argued civil cases in federal and state courts; practiced before numerous state and federal agencies, and managed a vast array of legal and regulatory issues as in-house counsel. Currently, he is a shareholder and the chief consultant of Holland Media Services, a freelance writing, training and consulting company with offices in Los Angeles and Philadelphia and an adjunct faculty member with Drexel University's Kline School of Law, where he teaches HR-compliance courses.
Refund Policy
Registrants may cancel up to two working days prior to the course start date and will receive a letter of credit to be used towards a future course up to one year from date of issuance. ComplianceOnline would process/provide refund if the Live Webinar has been cancelled. The attendee could choose between the recorded version of the webinar or refund for any cancelled webinar. Refunds will not be given to participants who do not show up for the webinar. On-Demand Recordings can be requested in exchange.
Webinar may be cancelled due to lack of enrolment or unavoidable factors. Registrants will be notified 24hours in advance if a cancellation occurs. Substitutions can happen any time.
If you have any concern about the content of the webinar and not satisfied please contact us at below email or by call mentioning your feedback for resolution of the matter.
We respect feedback/opinions of our customers which enables us to improve our products and services. To contact us please email [email protected] call +1-888-717-2436 (Toll Free).
Product Reviews
This product hasn't received any reviews yet. Be the first to review this product! Write review