Making your Pitch Organizing Your Thoughts and Ideas to be Credible
The ability to present articulately to management, to the customer, or a non-tech audience can significantly enhance your credibility. Delivering engaging presentations at work or professional events is a way to share your ideas and gain a reputation as a valued employee and an expert in your field.
Purchase option for this webinar is currently unavailable. Please contact our Customer Care for more info.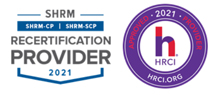 Course "Making your Pitch Organizing Your Thoughts and Ideas to be Credible" has been pre-approved by SHRM as eligible for 1 credits and HRCI as eligible for 1 credits towards a participant's recertification upon full completion.
The use of this seal is not an endorsement by the HR Certification Institute of the quality of the program.
Why Should You Attend:
An effective presentation means that the audience knows exactly what is expected of them as a result of the presentation. The speaker displays the right amount of enthusiasm, concern, and emotion. The presentation is an appropriate length. There is a detail only where necessary.
The presentation is interesting. There is a clear call for action If you are in presenting chances are that you organize your thinking around problems and solutions and that is a powerful framework for presentations.
In this webinar, you will learn how to start by thinking about what problem the presentation is intended to solve.
Learning Objectives:
On successful completion of this course, you will be able to:
How to Shape Perceptions through presenting
The Key Components of Effective Presentation
Defining persuasion and influence using ethos, logos and pathos
Develop and organize engaging presentations
Design and use appropriate visual aids
How to make your presentation points clear,
How to retain audience interest
Who Will Benefit:
Professionals who are first-time presenters who need to build their presentation skills and confidence
Professionals who speak in public occasionally but need to feel more comfortable and effective
Professionals who want to share an idea in a group setting or move up in their career and speaking before a group will be necessary
Instructor Profile:

Audrey Halpern
Soft Skills Trainer, Soft Skills
Audrey Halpern has had an exemplary 20+yr training facilitation/learning and development career, developing custom soft skills employee programs, on-boarding and Train the Trainer experiences. She is an experienced Facilitator, instructional designer, and learning and development/HR professional with a passion for making a difference.
Refund Policy
Registrants may cancel up to two working days prior to the course start date and will receive a letter of credit to be used towards a future course up to one year from date of issuance. ComplianceOnline would process/provide refund if the Live Webinar has been cancelled. The attendee could choose between the recorded version of the webinar or refund for any cancelled webinar. Refunds will not be given to participants who do not show up for the webinar. On-Demand Recordings can be requested in exchange.
Webinar may be cancelled due to lack of enrolment or unavoidable factors. Registrants will be notified 24hours in advance if a cancellation occurs. Substitutions can happen any time.
If you have any concern about the content of the webinar and not satisfied please contact us at below email or by call mentioning your feedback for resolution of the matter.
We respect feedback/opinions of our customers which enables us to improve our products and services. To contact us please email [email protected] call +1-888-717-2436 (Toll Free).
Product Reviews
This product hasn't received any reviews yet. Be the first to review this product! Write review